Honey came through for me this year with many China books and my study of the Middle Kingdom is proceeding apace.
After a short pre-holiday break during which I gathered a China booklist and read The Devil in the White City: Murder, Magic and Madness at the Fair that Changed America, by Erik Larson (Fabulous book! More on The Devil in the White City later. Thanks Toni!), Christmas provided just the book haul I needed for a serious look at China.
Now I'm ahead many China books, thanks to Honey's generosity, and in the coming weeks and months I can look forward to reading Jonathan Spence's Mao Zedong; Peking Story by David Kidd; The Boxer Rebellion by Diana Preston; Monkey: Folk Novel of China by Wu Ch' Eng-en, translated by Arthur Waley; Dragon Seed: The Story of China at War and Peony: A Novel of China by Pearl S. Buck; and The River Dragon Has Come!: The Three Gorges Dam and the Fate of China's Yangtze River and its People, compiled by Dai Qing.
Already I'm 300 pages into the thickest, heaviest, most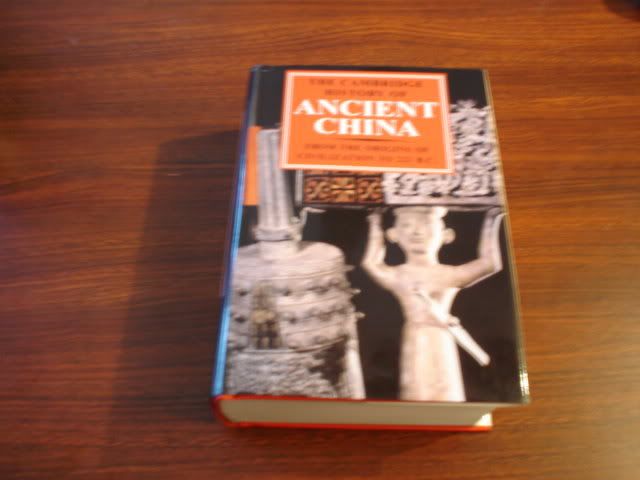 fabulous (and most expensive!) China book I've ever seen, The Cambridge History of Ancient China: From the Origins of Civilization to 221 B.C., Loewe & Shaughnessy, editors, $160 retail price. Honey ordered this 1,000 page beauty, which assembles essays on the origins of Chinese civilization by 14 of the world's leading China scholars, using the link I provided on this blog. Happiness is a good thick book, and time to read it!
The Cambridge History of Ancient China – a stand-alone sister-volume to The Cambridge History of China – takes readers back to the very dawn of man, and examines the unique cultural development of China through the latest archaeological discoveries and the stories of the legendary Three Sovereigns and Five Emperors as well as the Three Dynasties, the Xia, the Shang, and the Zhou. The history of these dynasties is continually emerging as chance archaeological finds in fast-developing China further human knowledge and both support and destroy long-held views of the ancient past.
The volume also examines the Chinese script and traces changes in the language and knowledge of its origins. This chapter proved tough reading for this particular Tennessean, no linguist by any stretch of the imagination.
What I've liked best about The Cambridge History of Ancient China so far is the outline of China's unique Brozen Age; the descriptions of the huge graves of the Shang, with their heavy bronze artifacts, their attendant sacrificial victims and their revealing contents of oracle bones and turtle shells covered in shamanistic writings; and the appearance of old Sanxingdui, a newly discovered Bronze Age site near Chengdu, Sichuan Province where there is no evidence of the human sacrifice that was such a brutal characteristic of the Shang. Sanxingdui seems like native territory for me, home ground, as it is at the center of the book that kicked off my China study in the first place: Ancient Sichuan and the Unification of China by Steven F. Sage. ##